Is your Teen Receiving the Best Behind-the-Wheel Education ?
Our 32 hour teen course consists of 24 hours of classroom instruction and 8 hours of behind-the-wheel instruction. The classroom instruction is divided into 12 two-hour classes that are independent of each other. The teens are required to attend one session of each of the twelve classes, and complete a final exam at the end of their twelve classes. The topics of the twelve classes are listed on each of the class schedules. The classrooms are equipped with modern equipment and air conditioning for those warm summer days. For frequently asked questions regarding obtaining a temporary permit and other related lesson information.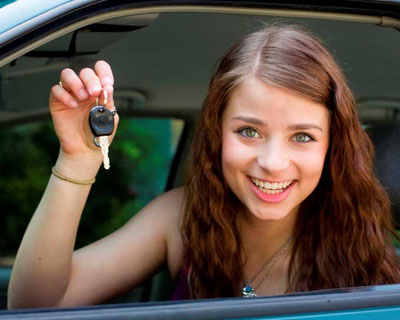 Teens must be at least 15 years and 5 months old to begin classes. They may start taking classes at anytime and in any order. They must arrive 15 minutes early and must be picked up within 15 minutes of classes ending. Students must complete all 12 classroom sessions and pay their full tuition before they may begin scheduling behind the wheel lessons. There may be a waiting list for the driving, which goes by date of enrollment. Students must give at least 24 hours notice when canceling a lesson. If not, they will be charged an additional fee of $40.
Teens don't all learn at the same rate. The State of Ohio requires that the teens are given a minimum of 8 hours of instruction behind the wheel. For some, this is an adequate amount of time for the instructor to give the teen student a good foundation to build upon. Eight hours is not enough time to learn how to drive, though. An additional minimum of fifty hours of supervised practice is required, with ten of those hours being at night. This is intended only as a minimum, or a starting point. The fact is, the more guided practice that the teen driver has, the better chance that they will have the skills to respond in an emergency situation. Many parents and teens find that additional instruction with an instructor is the most comfortable and appropriate learning environment available. D & D Driving School offer additional lessons in one and a half and two hour increments to complement the 8 hour behind-the-wheel program. We offer a winter driving lesson that's designed to give the new driver experience driving in winter conditions with the guidance of an instructor and the safety of dual controls. The car that the teen learns to drive in is also available for the his/her driver exam.
8 HOUR PRIVATE BEHIND-THE-WHEEL INSTRUCTION:
The 8 hours of behind-the-wheel instruction is private instruction. This is to minimize distractions and embarrassments for the new driver. Each two hour lesson is individually scheduled with a professionally trained and state licensed instructor. Special needs programs are available for students that are physically challenged or have special learning difficulties. Instructors are available seven days a week, at hours that are convenient for the student. The student may be picked up from home, school or work. Pick-up and drop-off is free of charge. All of our vehicles are equipped with dual controls and air conditioning.

Register